January 29, 1994 - University of Manitoba, Winnipeg, MB
Eric's Trip Gigography January 29, 1994 - University of Manitoba, Winnipeg, MB
Artist
ERIC'S TRIP

Rick White (vocals, guitar)
Chris Thompson (guitar)
Mark Gaudet (drums)
Julie Doiron (vocals, bass)
Crew
Nick Other (Sound Engineer)
Schedule
Load In

…:…

Soundcheck

…:…

Doors

…:…

Honest John Showtime

…:…

Eric's Trip Showtime

…:…
Soundcheck
No Info
Set incomplete
Need

Happens All The Time

Anytime You Want

Spring

Frame

Encore:

Sixty Six

Guess Who Cover
Set Range
Circulating Recordings
No Info
Uncirculated Recordings
No Info
Notes
There were about 300 people at the show.
The band performed for approximately 1 hour, according to a review by Donald Bailey in Imprint Magazine.
The band opened the show with a yet-unreleased song from their forthcoming LP, Forever Again.
Julie sang vocals for one of her songs.
The gig was part of the Life & Learning Festival, at University of Manitoba.
Press Reviews
Memorabilia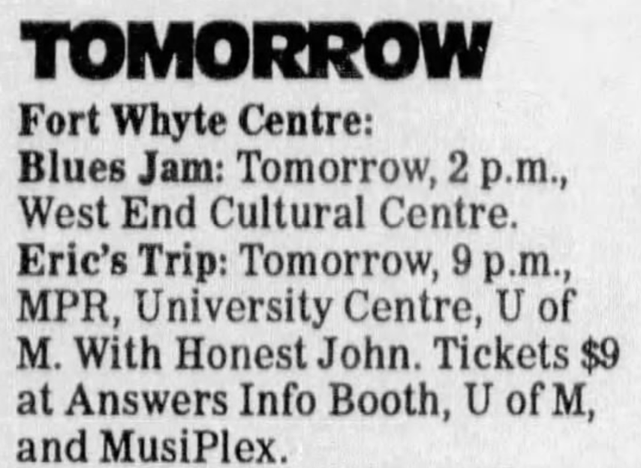 Images
---